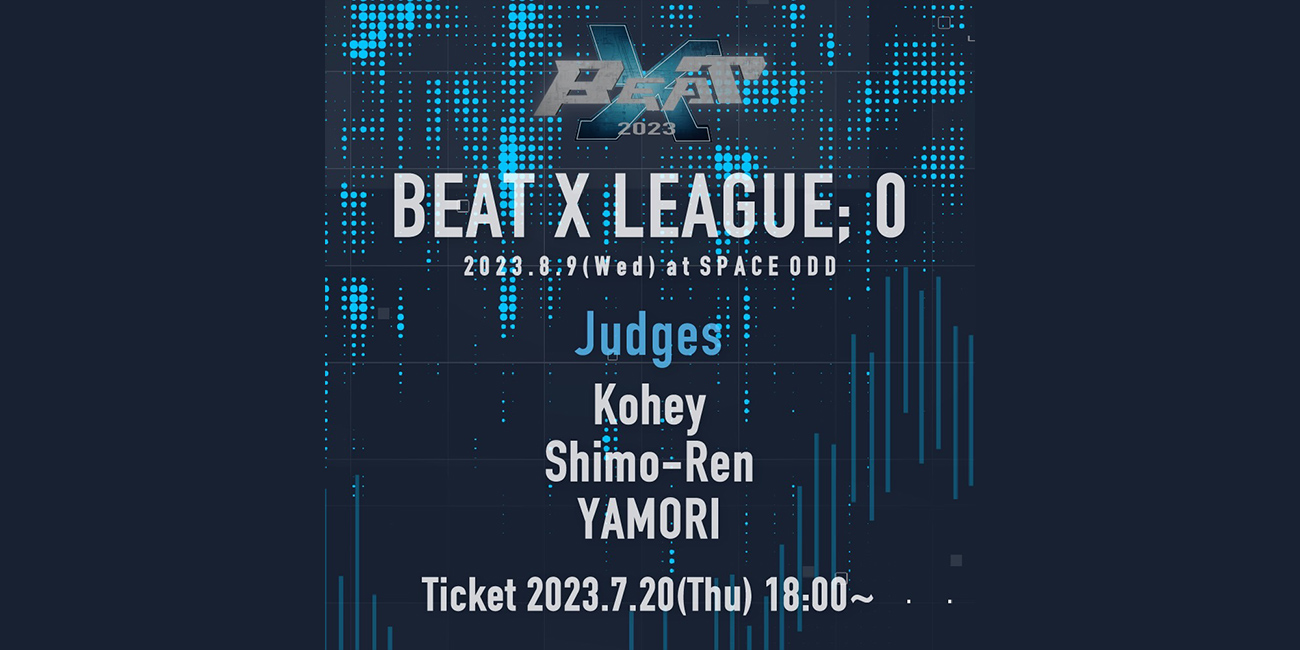 BEAT X LEAGUE; 0 2023
Kohey, Shimo-Ren, YAMORI
2022年に開催し話題を呼んだ、ビートボックスのみで繰り広げられる、
業界初のフェスティバル、BEAT X 2023の現場バトルイベントが誕生!
TICKET INFORMATION
東京 2023/8/9(水) SPACE ODD

チケット発売中

開場・開演
OPEN 14:00 / START 14:45
JUDGES
Kohey, Shimo-Ren, YAMORI
チケット
立見 ¥5,500-(税込/1drink別)


チケット発売日

7/30(日)10:00am~
プレイガイド
イープラス
チケットぴあ
ローソンチケット
※WEB販売のみ
注意事項
※ハンディキャップエリアご利用希望の方はこちらより申請をお願いします。
(チケットご購入後、早めの申請にご協力をお願いします。)
新型コロナウイルス感染拡大防止ガイドライン
こちらよりご確認ください
INFO
クリエイティブマン:03-3499-6669
オペレーター電話対応時間変更のお知らせ
 
ARTIST
Kohey
Shimo-Ren
YAMORI
ENGLISH
【Purchasing Tickets from Overseas】
Ticket is available for customers outside of Japan via the links below.
Please check the website for tickets available for purchase.
http://r-t.jp/beatxleague_en
Ticket will be avialble on these websites 'til one week before the show date
AUG 9 Wed - TOKYO : SPACE ODD
OPEN 2:00pm / START 2:45pm
ADV Standing 5,500(tax incl. / plus 1drink charge)
ADV 2F Reseved Seat 15,000(tax incl.)
TICKET ON SALE:JUL 30 sun
Info:CREATIVEMAN 03-3499-6669
※Please notice we do not allow children preschool age (5 years old) and younger to enter the show / venue.